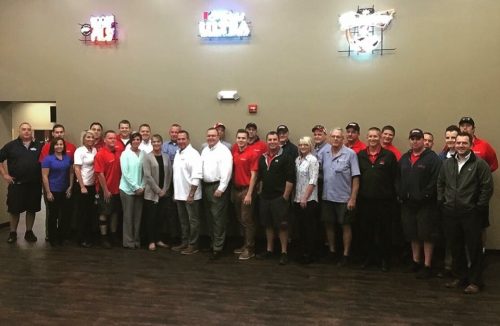 BELLAIRE — The Muxie Distributing Co.'s roots date back more than 65 years.
The growth the family owned business has experienced since that time has been nothing short of remarkable — punctuated by the recent opening of its state-of-the-art facility.
The Bellaire distributing company was founded by Bruno and Virginia Paolina in 1952, operating out of space no bigger than a four-vehicle garage. They sold no more than 60,000 cases of beer a year.
Today, Muxie's — owned and operated by Bruno's and Virginia's three grandchildren — calls a stunning 80,000-square-foot complex home. The new venue has resulted in the company doubling its volume and staffing, a staff which draws much praise from its ownership for its dedication, commitment and expertise.
Muxie's leadership is a family affair. Brothers Jeff and Rick Paolina, along with sister Kelly Paolina Lipperman, own and operate the distributorship. Jeff is the company president, Rick is vice president in charge of sales while Kelly is vice president in charge of administration.
Muxie's continued development has been bolstered by its recent purchase of Choice Brands of Ohio, located in Mingo Junction. Choice Brands serviced Jefferson, Harrison and Columbiana counties as well as parts of Carroll County
"We service Belmont, Monroe and part of Washington County. The combined operation is located at our new facility in Bellaire. We will distribute approximate
ly 1.8 million cases per year. The acquisition almost doubles our size," Jeff Paolina noted. "At one point in time there were more than 20 beer and wine distributors in the five-plus counties that we service. We are very proud that we are the soul remaining distributor."
At its inception, Muxie's distributed only Rolling Rock, Schmidt and Weidemann. The company's advancement got a major shot in the arm in 1955 when it secured the rights to distribute products for Anheuser-Busch Co.
The company's growth continued with its purchase of Fort Steuben Distributing while also acquiring the distribution rights to Coors Brewing in 1992 and Valley Distributing in 2001 (Miller Brewing.) That was followed by Muxie's adding Yuengling and New Belgium to its portfolio.
The company's expansion is also reflected in its work force. The original three-person operation has mushroomed into a staff of some 45 employees.
The new structure — one of the most modern in the state — came to fruition this summer. Muxie's moved into its new digs on Sept. 30.
"The building was a three-year process from start to finish as well as the initial design phase which included consulting from the Anheuser- Busch Facility Planning Division as well as our in-house design," Jeff Paolina said. "We now have 40,000 feet for refrigeration purposes, 30,000 in dock space and 10,000 for office space."
The loading section of the structure now boasts 14 docks compared to just two in the former building. The new building also enables Muxie's to offer bulk loading. The new building boasts a state-of-the-art racking system for storage and slotting of products.
The expansion of Muxie's as well as all the goodwill the company has provided to the village over the years has resulted in the Bellaire Chamber of Commerce naming the Paolina family as grand marshals of this year's Bellaire Christmas parade.
Muxie's is benefiting from a $600,000 project to repair North Guernsey Street, which houses the beer disributor and some other businesses in the village's North Industrial Park. Nearly a mile of the road was targeted for reconstruction work, including reclamation, repaving and striping. It was expected to be completed by year's end.
The company is in the process of leasing its former facility.
"None of this would have been possible if it wasn't for the work ethic and strong sense of family both at home and at work instilled by my grandparents and mother," Jeff Paolina said. "The key to everything we have accomplished over our 65 years is our staff. They are truly the backbone of Muxie Distributing and the commitment, work ethic and hard work that our staff brings to the table day in and day out is second to none. They are all in every day."